Written by Anthony Pierce
Oct 06, 2008 at 06:34 PM


With the recent acquisition of a mitered door machine, Morro Bay Cabinets is now able to build two new door styles with more to come in the future. Since we are now able to build our own Vermont and Sheffield doors rather than buy them from a third party door manufacturer, we can pass the savings on to you. Be sure to ask about our pricing when you visit our showroom.

Last Updated ( Oct 06, 2008 at 06:42 PM )
Dovetail: The New Standard
Written by Anthony Pierce
Dec 20, 2007 at 07:04 PM


As of January 2008, dovetail drawer boxes will be the new standard at Morro Bay Cabinets. Our newly purchased dovetail machine allows us to offer dovetail boxes to you as a free upgrade from the butt-joint boxes that have been our standard for the past 34 years.



Last Updated ( Dec 20, 2007 at 07:26 PM )
Read more...
Written by Anthony Pierce
May 17, 2007 at 01:37 PM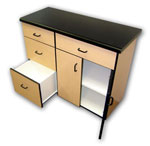 Morro Bay Cabinets garage cabinets offer a cost effective and great looking way to organize your garage or workshop. Our durable garage cabinets are built with 3/4" thick material--not the 5/8" or 1/2" thick material you might see in a box store. Pictured at left is one of our garage lowers.

Last Updated ( Jul 02, 2007 at 12:57 PM )
Read more...
Written by Anthony Pierce
Feb 27, 2007 at 11:13 AM
Your cabinets are the focal point of your kitchen--for this reason, deciding who will build your cabinets is the biggest decision you will make in creating a kitchen. To help you out, we've compiled a list of eleven points to consider in the process of deciding whether to go with custom cabinets or modular units...

Last Updated ( Apr 04, 2008 at 10:22 AM )
Read more...
Written by Anthony Pierce
Jan 29, 2007 at 03:43 PM


Morro Bay Cabinets was first issued an APCD (Air Pollution Control District) permit in 1997 for our cabinet prefinish operations. As the popularity of our finish grew, we began looking for ways to expand. With help from the APCD, whose staff members provided valuable information about compliance options and technical information about alternative materials, we made the decision to switch to a low VOC conversion varnish that would allow us to simultaneously lower evaporative hydrocarbon emissions and increase our output.

Last Updated ( Mar 22, 2007 at 04:34 PM )
Read more...
Written by Eric Payton
Dec 02, 2007 at 04:16 PM
Morro Bay Cabinets can provide you with custom cabinets built to the highest industry standards. Our work is backed up by 30 years of experience in the cabinet trade.





Examples of some of our work are on display in our showroom (see address under contact info or click on Virtual Showroom) along with pictures of past completed jobs. Please feel free to stop in and examine the showroom at any time during regular business hours.





We build custom cabinets, which means that no matter what, we can construct a product that will fit your specific needs. With many different styles and finishes to choose from, there is something that will fit every home.


Please feel free to explore our site, contact us with any questions that you may have, or leave your comments in our guestbook.

Last Updated ( Dec 06, 2007 at 11:42 AM )