Written by Anthony Pierce
Nov 16, 2007 at 07:49 PM
Thank you for taking the time to complete our survey. Not only do we appreciate your feedback, but we also act on it in order to improve the service that we offer to our customers. We hope that your cabinet buying experience has been a pleasure.



Dovetail: The New Standard
Written by Anthony Pierce
Dec 20, 2007 at 07:04 PM


As of January 2008, dovetail drawer boxes will be the new standard at Morro Bay Cabinets. Our newly purchased dovetail machine allows us to offer dovetail boxes to you as a free upgrade from the butt-joint boxes that have been our standard for the past 34 years.



Last Updated ( Jan 18, 2014 at 09:23 PM )
Read more...
Written by Anthony Pierce
Feb 12, 2008 at 04:41 PM
Morro Bay Cabinets can provide and install a wide selection of door and drawer hardware to give your cabinets the perfect finishing touch. Please choose a category to explore further:

Browse Hardware Resources pulls & knobs (more than 50 collections, hundreds of choices)
If you don't find the perfect knob in either of these two sections of the site, we have catalogs with additional hardware from Berenson, Amerock, Siro Designs, Belwith-Keeler, Top Knob, and Avanté that you can browse through next time you're in our showroom.

Last Updated ( Jan 19, 2014 at 11:16 AM )
Written by Anthony Pierce
Feb 12, 2008 at 06:07 PM
Please choose a gallery to view--the Job Showcase Gallery contains pictures of jobs that we have done in the past; the Showroom Gallery has different albums that show every thing from stain samples to cabinet hardware and accessories.



Go to Job Showcase -- Pictures of past MB Cabinets jobs

Go to Showroom Gallery -- Showroom pictures, stain colors, hardware, accessories, etc
Written by Anthony Pierce
Oct 06, 2008 at 06:34 PM


With the recent acquisition of a mitered door machine, Morro Bay Cabinets is now able to build two new door styles with more to come in the future. Since we are now able to build our own Vermont and Sheffield doors rather than buy them from a third party door manufacturer, we can pass the savings on to you. Be sure to ask about our pricing when you visit our showroom.

Last Updated ( Oct 06, 2008 at 06:42 PM )
Written by Anthony Pierce
Mar 07, 2005 at 02:44 PM
Solid Surface Countertop
Care and Maintenance Guidelines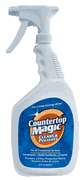 Click here for printable PDF

General cleaning of your solid surface countertops can be done with soap and water, ammonia based liquid cleaners (glass cleaner), and most conventional non-abrasive household cleaners.

To enhance the visual color intensity of your countertops or to hide minor scuffs and scratches, apply a light coat of

Countertop Magic

(available at hardware stores) and wipe away excess with a soft cloth.

Countertop Magic

is recommended for maintaining and cleaning all countertops. It is safe for all food handling surfaces. You should go over the entire surface to maintain an even appearance.

Stubborn stains and light scratches can be removed with a non- abrasive cleaner like

Soft Scrub

or

Bon Ami

and a soft cloth or paper towel. Heavier scratches may be removed with a 3M fine sanding sponge (available at paint stores and hardware stores) or 320 grit (or finer) wet/dry sandpaper. A new sanding sponge may be too aggressive and will produce less scratch marks as it gets used. Do not use anything more abrasive or other types of sandpaper. Wet the sponge lightly and rub the scratch using a circular motion. Feather out the sanding by

decreasing

sanding pressure as the circular sanding area is increased. Remove excess residue with a towel. Clean the area with a non- abrasive cleaner and a soft cloth. Finish by rubbing with 0000 superfine steel wool (available at any hardware store) and apply a coat of

Countertop Magic

. The finish may be difficult to reproduce by hand depending on the color of your countertops. Try an inconspicuous area first.



NEVER attempt to repair deep scratches, chips, or burns; contact a qualified fabricator.

Sinks can be cleaned with a white

Scotch Brite

pad and a mild cleanser. If hard water spots or stains persist, the sink can be cleaned/sanded with the 3M fine sanding pad, wet.

Solid Surface does scratch. This is normal and to be expected with everyday use. Darker colors and solid colors will show this more.


ALWAYS

use a trivet with legs under hot pots and shield heat-producing appliances (such as electric skillets, crock pots, etc.) NEVER place hot items directly on countertop. Heat-producing appliances should never be used over a seam area.

ALWAYS

use a trivet under frozen items or ice. DO NOT place ice or frozen foods directly on counter for any prolonged length of time.

ALWAYS

use a cutting board. DO NOT cut directly on countertop.

NEVER

use harsh chemicals such as drain cleaners and paint removers.
NEVER stand on your counters.
AVOID sliding hard or rough bottom objects across any surfaces. Use felt protectors on the bottom of pottery or other hard objects.
ALWAYS run the tap water when pouring boiling water or dumping large quantities of ice into a solid surface sink to avoid thermal shocking or cracking it.
FREESTANDING RANGES MUST SIT HIGHER THAN COUNTERTOP
Last Updated ( Jan 18, 2014 at 01:18 PM )
<< Start
< Previous
1
2
Next >
End >>
Results 1 - 7 of 10